Intellectual Property Law
e-Presentation Annual Subscription
Year:
2020
Compact updates on the latest in EU law
The annual subscription gives you access both to our back catalogue of over 65 e-presentations and to at least 6 new e-presentations  every year on the latest developments in EU Intellectual Property Law.

Each e-presentation lasts on average 35 minutes. Key topics covered include:
Recent CJEU Judgments on EU Copyright Law
Copyright in the Cloud
Recent Judgments of the CJEU on Designs

The New Rules on Exception and Limitation to Copyright
Geographical Indications

The e-presentations are delivered by top experts from the EU institutions, national authorities, private practice or academia, including:
Maciej Szpunar

Alexander von Mühlendahl

Andrej Stec

Eleonora Rosati

Sven Klos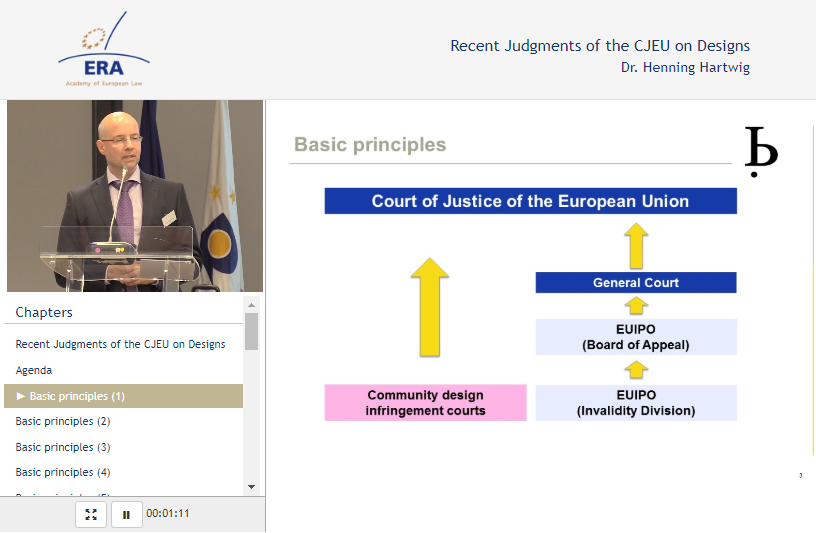 Each package features a video of the speaker, their slides, exhaustive background documentation, a quiz and the option to obtain a certificate on completion. The e-presentations can also be downloaded to be viewed offline.

Access and technical requirements
If you by credit card or PayPal, your subscription will be activated within one working day. If you pay by invoice (bank transfer), your subscription will be activated as soon as payment has been received.
There are no special technical requirements to access the e-presentations as long as you enable JavaScript in your web browser.
Area of Law:
Intellectual Property Law
Language:
English
Article-no.:
020EA06
Price:
100,00 EUR
To place an order, please log in here:
Already have a My ERA account?
Please enter your e-mail address and password.

Forgotten your access details?
Please enter your e-mail address and we will send you your password. Leave this page open so that you can insert your password here.