Permanent Installations
---------------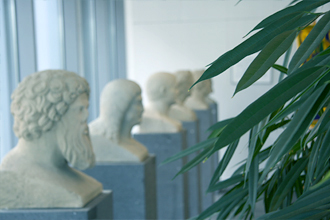 ---------------
Roman busts: united in diversity over the centuries
The Roman busts exhibited in ERA's foyer are reproductions of sculptures excavated in the 19th century in Welschbillig near Trier. They were located in the enclosure of a rowing pond that probably belonged to a luxurious Roman villa.
The busts were carved in the second half of the fourth century and are some of the most important Roman finds in the Moselle region. The heads represent various nationalities, primarily Romans and Greeks, but also Celts, Teutons, Barbarians, Phrygians, Parthians and Africans, as well as some idealised figures which are probably gods.
These busts are a vivid reflection of the diversity of the region's population in Roman times and are fitting for a contemporary institution like ERA actively involved in Europe's political, economic and social integration.
Ausonius - Statesman, Lawyer and Poet
The bust of Ausonius which graces the entrance to the Aula of the ERA Conference Centre was donated in 2002 by Bâtonnier Bertrand Favreau, President of the Institut des Droits de l'Homme des Avocats européens and a native of Bordeaux.
Ausonius, born c. 310 in Burdigala (Bordeaux), where he was a lawyer and rhetoric teacher, personifies the combination of culture and politics typical of the time. Appointed by Emperor Valentinian as praeceptor (teacher) of his son Gratian in Trier, he was then raised to the position of quaestor sacri palatii (in modern terms the equivalent of Minister of Justice) of the western part of the empire, and later became a consul in Rome. Ausonius is also known for his literary work such as his Mosella (a portrait of Trier and the Moselle river valley) and de Bissula (a cycle of songs in honour of the Alemannic maiden Bissula).
The Cage of Freedom (La Jaula de la Libertad)
Eduardo Chillida, born in the Basque town of San Sebastian in 1924, was one of the 20th century's most important sculptors. His favourite medium was iron and his monumental outdoor sculptures can be seen throughout Europe. Chillida's "Cage of Freedom", built in 1996, was especially designed for the area in front of the ERA Congress Centre.
This powerful sculpture is made of forged steel in the form of a cube. Its base measures 4.28m
²
and its height is 3.36m. Although the sculpture's dimensions are nearly cubic, it does not have any right angles or actual straight lines. This is true not only for the cage but for all of Chillida's work. The steel struts form a cage-like structure but are connected in a random way and allow the observer enough space to go in and out unimpeded.
The idea of creating a "cage of freedom" only came to Chillida when he had already started work on the model. He knew that he had created a cage but "it was a cage where nothing and nobody could be locked up. That is why it had to be called the Cage of Freedom. The large openings are a metaphor and a request; that anyone who goes in can get out again."